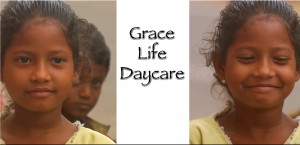 Grace Life Ministries (Ministry to India)
Led by Kell and Lorri Frandsen, Grace Life Ministries is a non-profit, charitable organization committed to bringing practical and spiritual aid to the poor and oppressed in India, Nepal, and Thailand. The ministry seeks to empower and equip, providing tools and resources that will promote self-sufficiency and vibrant faith in God.
Our methods include Bible training, micro-credit, industry skills training, children's homes, childcare programs, church building, and pastor sponsorship.
From their website: "We are in the process of community development in the state of Odisha. Our project involves building a tube well in a small tribal village, including a community center and medical clinic. We have trained leaders in Singapore where they were taught advanced agricultural methods, and hydroponics. The leaders will teach the villagers these methods, thus enabling them to multiply their crops and increase their standard of living."
For more information visit their website
here
Food Pantry
If you or someone you know needs some food talk to one of our greeters. We have food that can be given to people or families in need.
If you want to donate non-perishable food to our Food pantry you can bring it to the church and leave it in the kitchen for our volunteers to put away.
Prayer in the Portable
We believe that God wants to interact with us. How crazy is that? That the God who created the universe wants to have conversations with you and me. Each Friday at 11:00 AM we meet to listen to God and then share what we believe he is saying to us. It is amazing how God can speak the same thing to multiple people. Come and try it out, whether you have prayed your entire life or you are still wrestling with doubts (because at times, we all are).
Young at Heart
If you are 50+, have we got an event for you! Curious?
We want to create an atmosphere where people can socialize, get to know one another through having fun, laughing together and discussing the needs of seniors and how those needs can be met. We want to know and make known God's love to all the Young at Heart both within our church and within the community.
For more information go here
Grassroots Kind Hearts Meals
Unfortunately, there are people all around us that struggle to have their basic needs met. Whether it is
food, shelter, or other accomodations. We want to show the Love of God by providing some of these needs. One way we do that is by making meals the 2nd Thursday every month to give to those who need it. If you want to be a part of this great opportunity contact Karen at karenmelanson@shaw.ca.
Community Groups
God created us to be in a community. Community Groups are a place to connect with others to help, encourage, support, and challenge one another. If you want to join a Community group check out the community groups page
Youth
We also believe that our teens have so much to offer. We want to build relationships to equip, encourage and challenge them to be all that God has made them to be. We have events throughout the year. For more information check out the youth page
here
Kids
We believe in building into our kids to show them God's amazing love for them. Each Sunday morning we have two classes of Sunday School and a Nursery for the younger ones. If you want more information or you want to help out contact Nancy at office@crvineyard.ca
Other Areas
If you are wanting to see who is heading each area of ministry or you want to see where there is openings please look at our Church Structure Chart
here